Translational enthalpy of the molecule
Definition: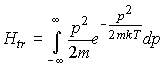 p - momentum of the molecule
m - mass of the molecule
k - Boltzmann's constant
T - absolute temperature (K)
References:
D.A. McQuarrie, Statistical Thermodynamics, Harper & Row Publishers, New York, 1973.

A.I. Akhiezer, S.V. Peltminskii, Methods of Statistical Physics, Pergamon Press, Oxford, 1981.